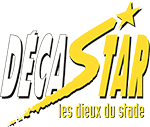 2023 Edition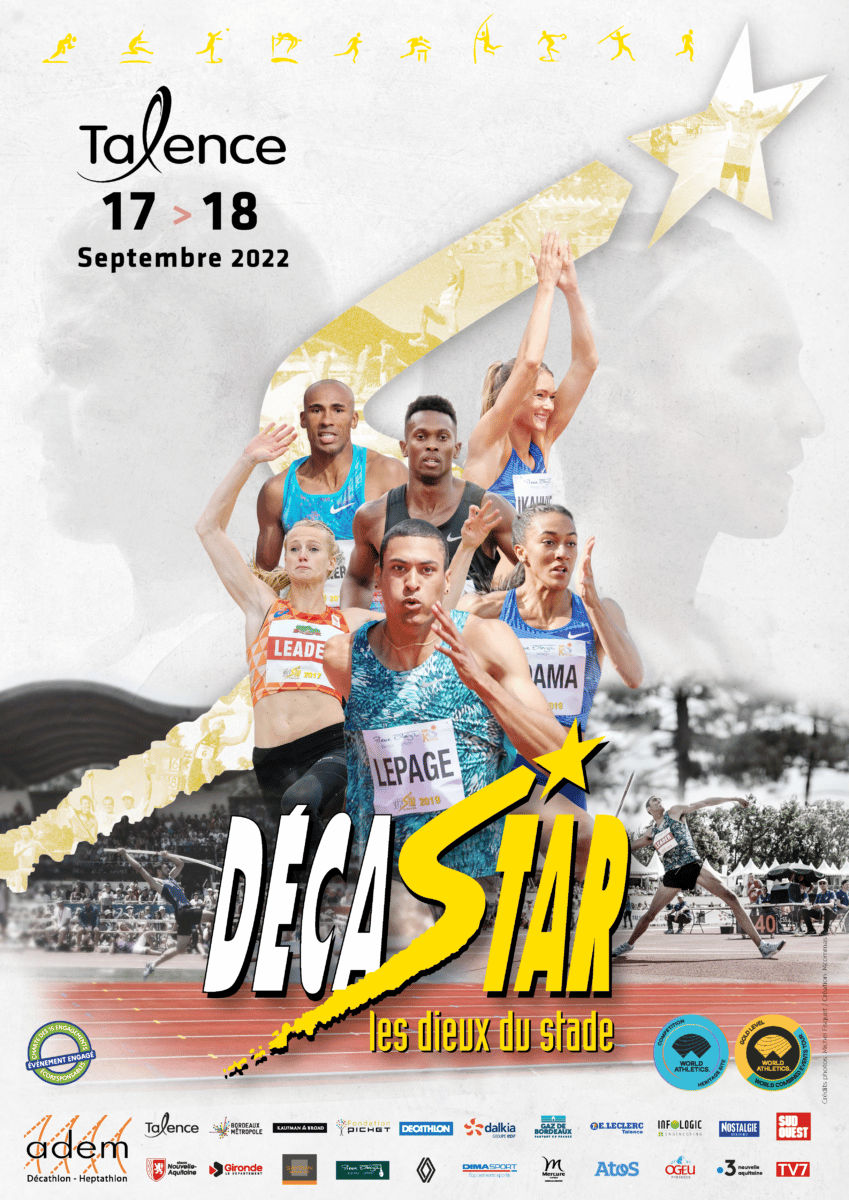 WHEN ?
September 23 & 24, 2023
WHERE ?
Plaine des sports de Thouars
Talence
After a period which will have marked us all, we will have in heart to celebrate the sport all together during the Decastar 2023
SATURDAY
Doors open at 10am
Decathlon
10:50 am: Presentation
11am: 100m
12pm: Long jump
1:35pm: Shot put
3:35 pm: High Jump
6:30 pm: 400m
Heptathlon
11:25 am: Presentation
11h40 : 100m hurdles
12:25 pm: High Jump
15h45 : Shot put
17h20 : 200m
Schedules subject to change
SUNDAY
Doors open at 8:30 am
Decathlon
9:30 am: 110m hurdles
10:20 am: Discus Throw
1:05 pm: Pole vault
5:25 pm: Javelin
7:00 pm: 1500m
Heptathlon
10:30 am: Long jump
14:15: Javelin Throw
5:05 pm: 800m
Podiums after the end of the events
Timetable subject to change
On-site sales all weekend (ticket office opens 1 hour before the start of the competition) in addition to the online ticket office
TICKET PRICES
Free seating
Reduced price: Saturday (12€), Sunday (14€), Saturday and Sunday (18€)
Full price: Saturday (15€), Sunday (18€), Saturday and Sunday (26€)
Reduced rate (upon presentation of a receipt at the stadium entrance) for the following people
Student
12/18 years old
FFA members
Inhabitants of Talence
Job seekers
People with reduced mobility
Free for children under 12 years old
Adress
Stade Pierre Paul Bernard
Parc des Sports et des Loisirs de Thouars
Avenue de la Marne
33400 Talence
---
Covoiturage
Vous avez de la place dans votre voiture ? Vous recherchez un conducteur ? La plateforme Covievent vous aide à covoiturer jusqu'au Décastar !
---
Comment se rendre au stade de Thouars en voiture ?
• Depuis l'aéroport Bordeaux-Mérignac, stade à environ 20 minutes en prenant l'A630 direction Arcachon/Bayonne jusqu'à la sortie n°16 Talence-Centre / Domaine universitaire.
• En voiture : Rocade sortie n°16, direction Talence-centre / domaine universitaire ou Rocade sortie n°17, direction Talence-Thouars.
Privilégier les transports en commun pour venir au stade
• Parc-relais :  vous pouvez utiliser le parc-relais Unitec puis vous rendre en bus jusqu'au stade (ligne 34).
• Depuis Bordeaux centre-ville : stade à environ 40 minutes. Prendre le tram, ligne B direction Pessac Centre jusqu'à l'arrêt Doyen Brus, puis prendre le bus n°10 direction GRADIGNAN Beausoleil jusqu'à l'arrêt La Paillère et marcher environ 15 minutes.

• Depuis la gare St Jean de Bordeaux, stade à environ 40 minutes en transports en commun.
Prendre le bus n°10 direction GRADIGNAN Beausoleil (arrêt situé de l'autre côté de la chaussée) jusqu'à l'arrêt La Paillère puis marcher environ 15 minutes.
• Lignes de bus proches : Liane 10, arrêt La Paillère / Liane 8, arrêt Le Dôme / Liane 21, arrêt École d'Architecture (10 min de marche).
• En vélo : parkings surveillés proche de l'entrée Grand public. Possibilité d'utiliser les VCub de la Ville depuis les stations Forum, Peixotto ou Doyen Brus, jusqu'aux stations École de Management, Compostelle ou Thouars, à proximité du stade.

We have special rates with various hotels near the stadium on Decastar weekend!
Download our Accommodation Guide for Decastar 2022
PEOPLE WITH REDUCED MOBILITY
PRMs are welcome at the stadium, including those who must be accompanied by a guide dog. In this case, special measures are implemented to allow people with reduced mobility to fully enjoy the event while respecting the constraints set by the sports authorities.
The access to the stadium is only done by the avenue of Thouars, coordinates :
Access zone Décastar 33400 Talence: 44.793819, -0.591931
The handi badge allows you to pass through the police checkpoint and to go to the official parking.
Two cases :
1- the person with reduced mobility drives his car: in this case the 2nd control will direct him to a nearby parking lot (reduced number of spaces) and will be accompanied for the access control formalities and guided to his spectator place.
2- If the person is not driving, the driver will have to park in the "Officials" parking lot in a reserved space after having dropped off the person with reduced mobility near the entrance, and then join him/her to be accompanied to a place in the stadium.
Inside the stadium, places are reserved in the wheelchair accessible stands. Places are available in front of the 100m finish line, and places are reserved on a terrace in the partner village. The PRM accompanied or autonomous (electric wheelchair can move freely inside the stadium during the events). The reception service will guide them according to their choices.
For the access control, it is done, for the PRM, only in front. In order to facilitate the access control, it is advisable to carry your access ticket beforehand. Tickets are on sale on the Decastar website. In order to facilitate contacts, a telephone number for the reception unit will be published on the site at the beginning of September.