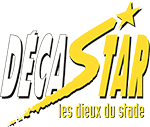 ADEM
The ADEM (Association for the Development of Combined Events and the
Meeting of Talence), governed by the law of 1901, is the organizer of the Decastar of
Talence.
ADEM has a second mission. With the college of athletes integrated into the structure, it helps train young athletes towards the high level supervised by a coach specialized in combined events, thus participating in the development and promotion of combined events and athletics among young people in the New Aquitaine region.
An initiative crowned with success since several athletes from this training have
training have participated in numerous international events: Didier Claverie, Yolaine
Claverie, Yolaine Lefèvre, Muriel Crozet, Amandine Constantin.